Wright Medical Group, Inc. to Host Third Quarter 2005 Earnings Conference Call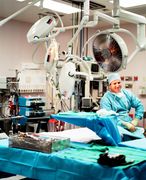 ARLINGTON, Tenn. -- Tuesday, October 25, 2005 at 3:30 p.m. Central/4:30 p.m. Eastern
Wright Medical Group, Inc. (NASDAQ: WMGI) today announced that it will host a conference call on Tuesday, October 25, 2005 at 3:30 p.m. Central to discuss the Company's finalized operating results for its third quarter ended September 30, 2005. Finalized operating results will be released at 3:00 p.m. Central Time that day. Earlier this month the Company announced preliminary sales results for the third quarter totaling approximately $73.4 million and a net income expectation ranging from $.10 to $.11 per diluted share.
F. Barry Bays, President and Chief Executive Officer and John K. Bakewell, Executive Vice President and Chief Financial Officer, will host the call.
The live dial-in number for the call is 800-822-4794 (domestic)/913-981-4912 (international). A simultaneous webcast of the call will be available via Wright Medical's corporate website at www.wmt.com. The call will also be archived on this site for a minimum of 12 months.
A recording of the call will be available from 7:30 p.m., Central on October 25, 2005 until 12:00 a.m., Central on November 1, 2005. To hear this recording dial 888-203-1112 (domestic) or 719-457-0820 (international) and enter the code 9837043.
Wright Medical Group, Inc. is a global orthopaedic device company specializing in the design, manufacture and marketing of reconstructive joint devices and biologics. The Company has been in business for over 50 years and markets its products in over 60 countries worldwide. For more information about Wright Medical, visit our website at www.wmt.com.